An Update From Your Education Executive Officer (7th January 2021)
---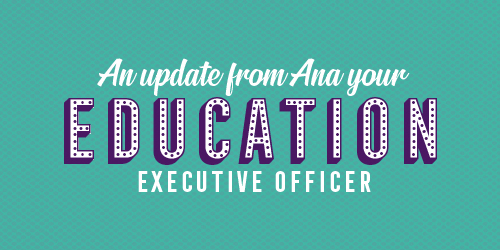 I am the first to know that the past year has been an incredibly difficult time for the Higher Education sector.
Ever since March 2020, I have worked to support as many of you as possible through the challenges of the past year; be that navigating through School/Departmental-specific challenges alongside your Reps, Lead Reps, and Presidents, or through working with University colleagues, to ensure that your voices are heard, and your obstacles acted on.
As the situation surrounding COVID-19 continues to evolve, I am aware of the further challenges you continue to face, whilst also being aware that there are pressing questions that no-one seems to be able to answer with any clarity (particularly surrounding tuition fees, accommodations, extensions, additional support, assessments and examinations - to name but a few). It is really challenging to think that you consider such a big emotional and monetary investment is not yielding the results you were aiming to get when you decided to either continue or begin your journey within Loughborough University this year.
COVID-19 Q&A Portal
In order to support you through these difficult times, I want to assure you that LSU is aware of all the challenges that you are facing, and here is where my team and I are asking for your support.
From today, you will be able to submit any of your queries or concerns to our COVID-19 Q&A Portal. This is an anonymous submission which will enable us to collate and address the wide array of concerns currently surrounding your University experience. The Portal will remain open until Midnight on Sunday 10th January; after which the LSU Executive Team will go through all questions submitted before communicating the key topics/themes back to our student members. We will then be liaising with various Union and University colleagues to provide answers to your concerns.
The reason why we have decided to take this approach is because it would be simply wrong to pretend that we are experts or knowledgeable enough in some of the situations that we have seen being discussed by the student body – it would not help you if I tackled tuition fees on my own, and misinformed you, for example.
We appreciate that you feel that there is a lack of clarity around some of these key issues and that the information is difficult to locate and as a result, we are hoping that by working with University and Union colleagues alike we will be able to provide a platform for your questions, with the relevant answers accessible and visible to all.
In order to offer further support, my colleagues at LSU Advice have compiled a set of usual information and resources to further help you navigate this upcoming period.
LSU Advice
We provide independent, confidential and non-judgemental advice for students and researchers both at the Loughborough and Loughborough London Campus. We are here to support you via email through a variety of University processes including, but not limited to, academic misconduct, appealing results, disciplinary offences, mitigating circumstances or if you want to make a complaint to the University. 
We wanted to take this opportunity to highlight some particular areas of our service that might be of help during this difficult time:
If you have individual circumstances affecting you that you have feel have impacted your academic performance or meant that changes to teaching, assessment or your research have had a disproportionate impact on you, it is important that you consider submitting a mitigating circumstances claim.
Taught students can find information here  and Doctoral Researchers can find information here  
As well as seeking support from your School and/or Student Services, we also recommend you send us your mitigating circumstances claim to review.
You should email a draft in Word and any supporting evidence to lsuadvice@lsu.co.uk as soon as possible.
If you wish to complain either informally or formally to Loughborough University about any aspect of your experience, you can find out more about the complaints process here.
We can help by reviewing a draft of your complaint and advising you on who to submit it to and what supporting evidence you might need. If you would like some support with this, please email lsuadvice@lsu.co.uk with as much information as possible about the issue, any action you have already taken and what outcome you are hoping for. Please note, complaints should be submitted within 3 months of the situation you are complaining about.
Academic Misconduct
During these exceptionally difficult times, students and researchers are at risk now more than ever of either accidentally or intentionally committing academic misconduct. It is really important you familiarise yourself with the rules.
Information for taught students can be found here  and information for Doctoral Researchers can be found here
We are a confidential service here to help if you need support with an existing allegation of academic misconduct or if you are concerned you might be vulnerable to this. You should contact us urgently at lsuadvice@lsu.co.uk to receive our expert help in this area.
Helpful links and Resources
LSU Advice
Loughborough University COVID-19 FAQs for students
Loughborough University COVID-19 FAQs for Doctoral Researchers
Wellbeing & Mental Health Support 
Private housing, Renting , Finance and International Specific Enquiries
University Accommodation
OIAHE COVID-19 FAQs for students 
Office For Students: Student Guide to Coronavirus
I know that we're now experiencing a very different set of circumstances, different from what you had envisioned when you decided to pursue this step in your academic journey. What I also know is that there are so many people at this institution that genuinely care about what happens to you and whether you feel like, despite it all, you have been able to further your knowledge and understanding.
Should I be able to help with anything else, do not hesitate to contact me; my 'virtual' door is always open,
Ana-Maria Bilciu
Education Executive Officer