Loughborough LGBT+ Association
Welcome to the award-winning Loughborough Students' Union LGBT+ Association!
We are here to provide a support network for every student who identifies as Lesbian, Gay, Bisexual, Trans and any other denominations of sexuality and gender at Loughborough University, Loughborough College and the RNIB College.
We do this through an array of events that range from fun socials to educational and activism-fuelled workshops. All you have to do to join in on the fun is simply turn up to any of our events!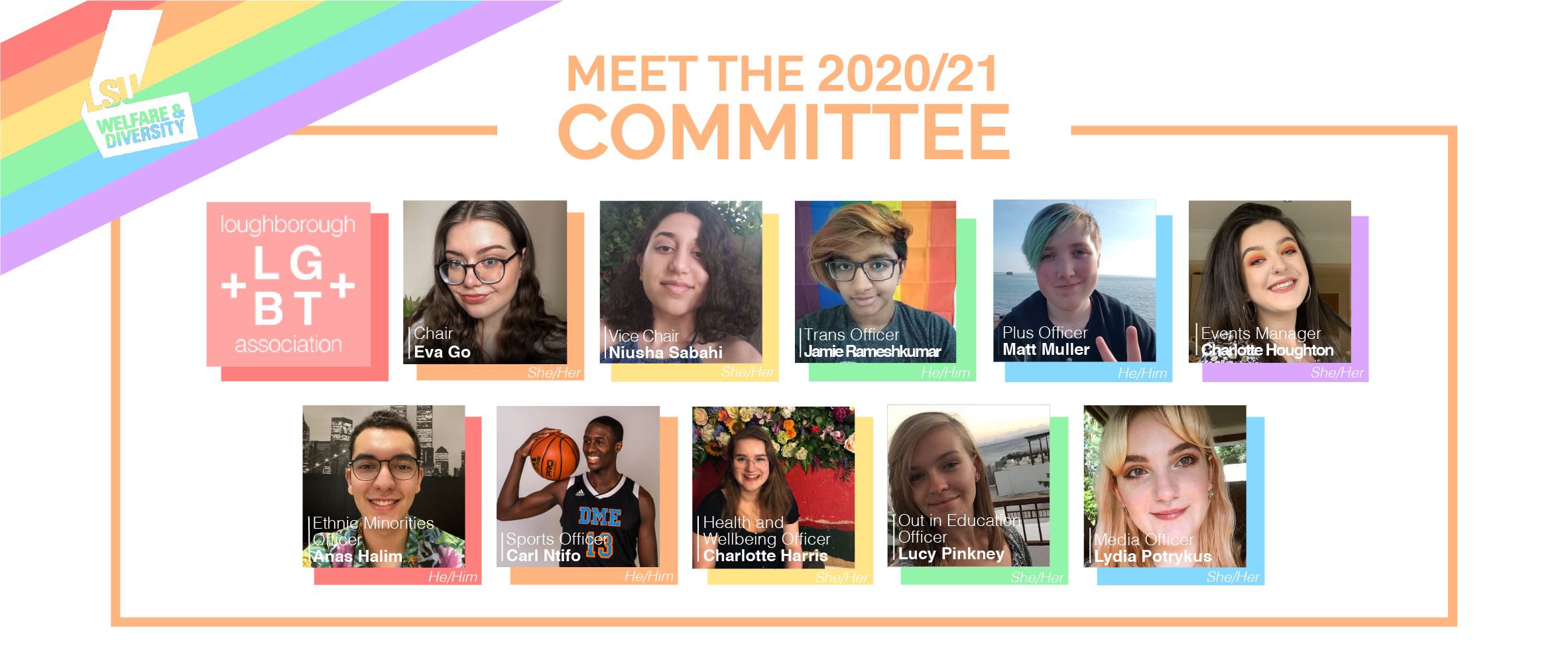 To stay up to date with everything LGBT+ on campus and all our events and activities, like our page on Facebook here. Alternatively, we have a Private Members' Group for those who are not out yet, but would still like to get involved – simply message the main Facebook page and somebody from the committee will add you.
There is no form of membership or fee required to join our association.
Our subgroups:
TRANSFORM
Transform is one of our biggest campaigns, not only dedicated to creating a safe space for gender minorities, but an activist group petitioning for Trans rights on campus. Transform runs fortnightly on intermittent Wednesdays 7pm-9pm.
EMBRACE
Embrace is our campaign dedicated to those who identify as asexual or aromantic. Embrace is both a social group for ace identifying individuals and a group that focuses on creating content to educate others on the misconceptions of asexual lifestyle.
OUTSPOKEN
Outspoken is a social support group for students at Loughborough University and Colleges who identify as Queer, Trans or Intersex People of Colour. The group is run by both the LGBT+ Association and the Ethnic Minority Network.
OUT IN EDUCATION
Bullying and homophobia is still ever present in British schools. Out in Education is a not-for-profit that gives talks in schools dedicated to educating students and increasing the visibility of LGBT+ people. If you are interested in becoming an OiE volunteer, pop an email to outineducationloughborough@gmail.com
CONTACT US
Email: Eva Go, Association Chair at evago@lsu.co.uk or the Association inbox at loughboroughlgbtassociation@gmail.com.
If you'd like to receive occasional emails from our Loughborough LGBT+ Association about events, news and support then please subscribe here:
If you ever change your mind just drop marketing@lsu.co.uk an email and they will remove you from the Association's email list.